Pollination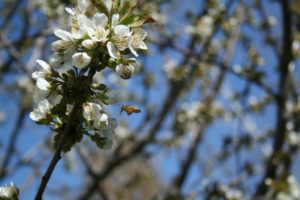 We are experienced beekeepers who offer pollination services in Washington, Oregon, Idaho, and California. We believe that keeping good quality standards in our beehives makes a difference. All of our beehives have a working queen, plenty of brood, strong frame count to meet or exceed your needs, and a double-deep hive setup. We place 4 beehives per pallet secured with straps to make moving bees more efficient, safe, and secure.
Give us a CALL for pricing and availability: 509-270-5803
Or Click Here to Send Us a Message and we will call you.
Types of pollination: almonds (mainly CA), apples. blueberries, cherries, raspberries, pears, and more.
Looking for 2019 Almond Pollination Services?
Outdoor Bee Co. is proud to offer almond pollination services in California. If you would like to get in touch with us to learn more about our services feel free to contact us. Our beehives are held to the highest quality standards to ensure maximum crop yield. Our team of trained specialists will be more than happy to assist you with any of your pollination needs. Due to high demand, please contact us as soon as possible so that we will be able to make the necessary accommodations.